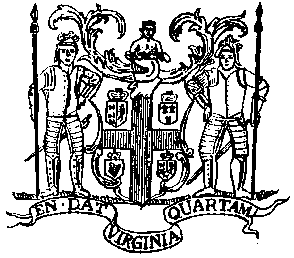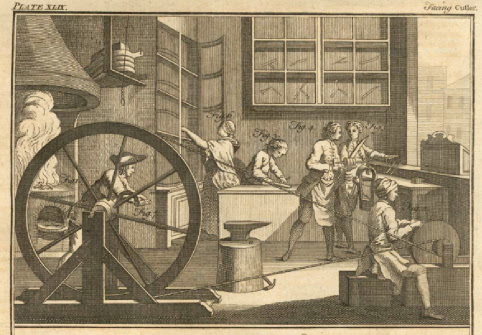 18th Century Cutlery Shop
Notice is hereby given, that All
who would Patronize my Shop
may expect their work performed in the
NEATEST MANNER with the
quickest possible DISPATCH.
Yr. Most Humble and Obdt. Srvnt,
K. WILLYARD
Member Contemporary Longrifle Association
National Muzzleloading Rifle Association
2021 Early American Life Directory of Traditional American Crafts
I invite you to take a virtual tour of the shop. Just click on the link below.
Now you can pay with your credit card
Just follow this link: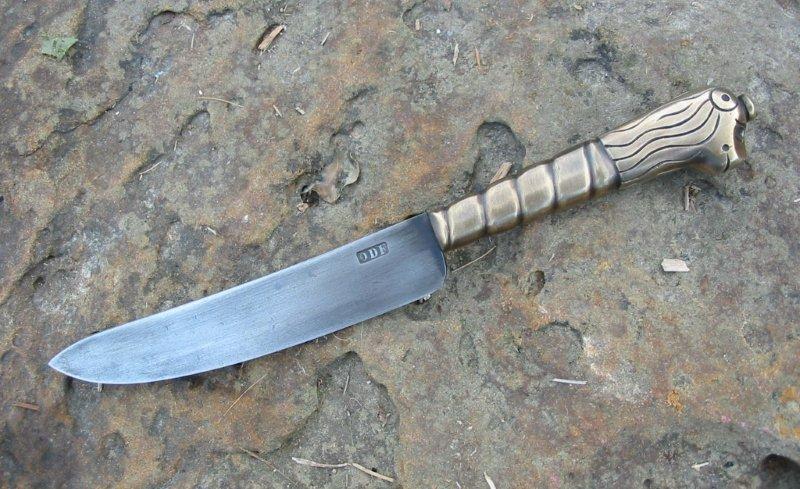 I am excited to have been chosen for Early American Life Magazine's 2015 Directory of Traditional American Crafts. The Lion Handle knife pictured above is featured in the June issue.
Below are photos our display at the 2015 CLA show in Lexington Kentucky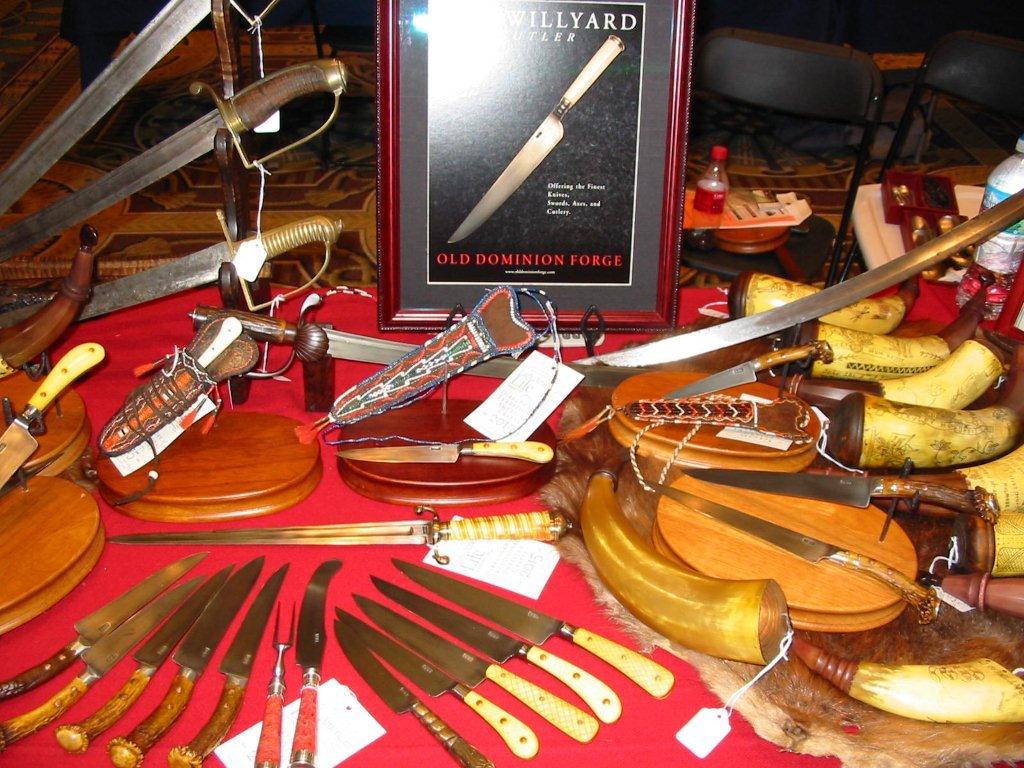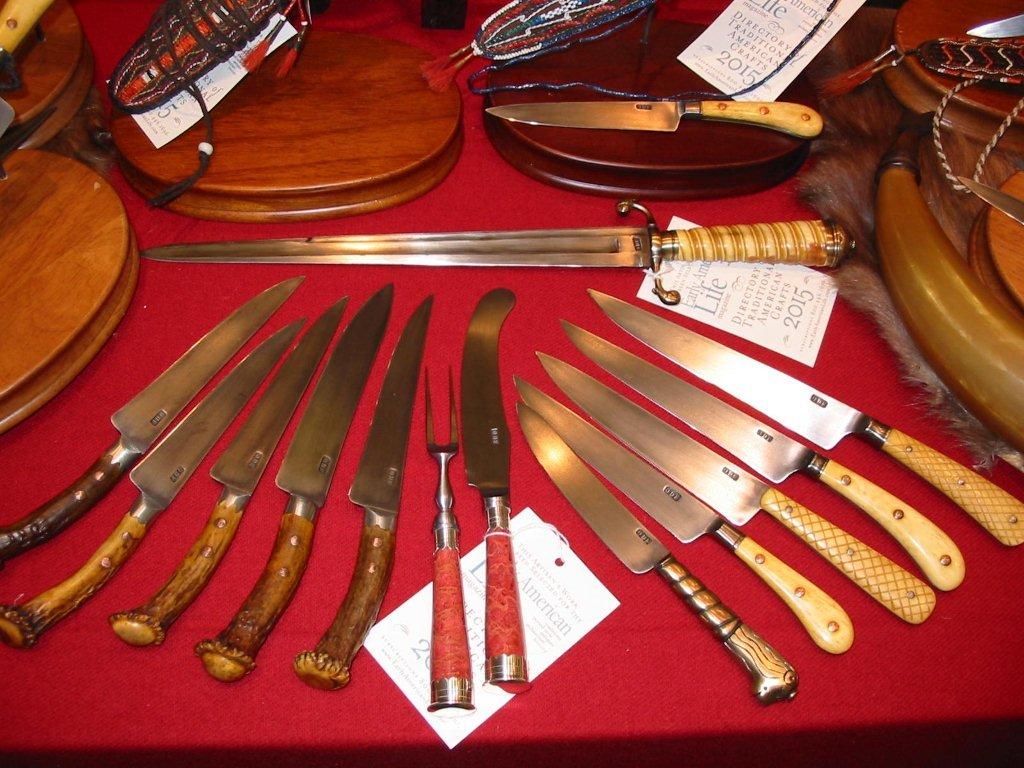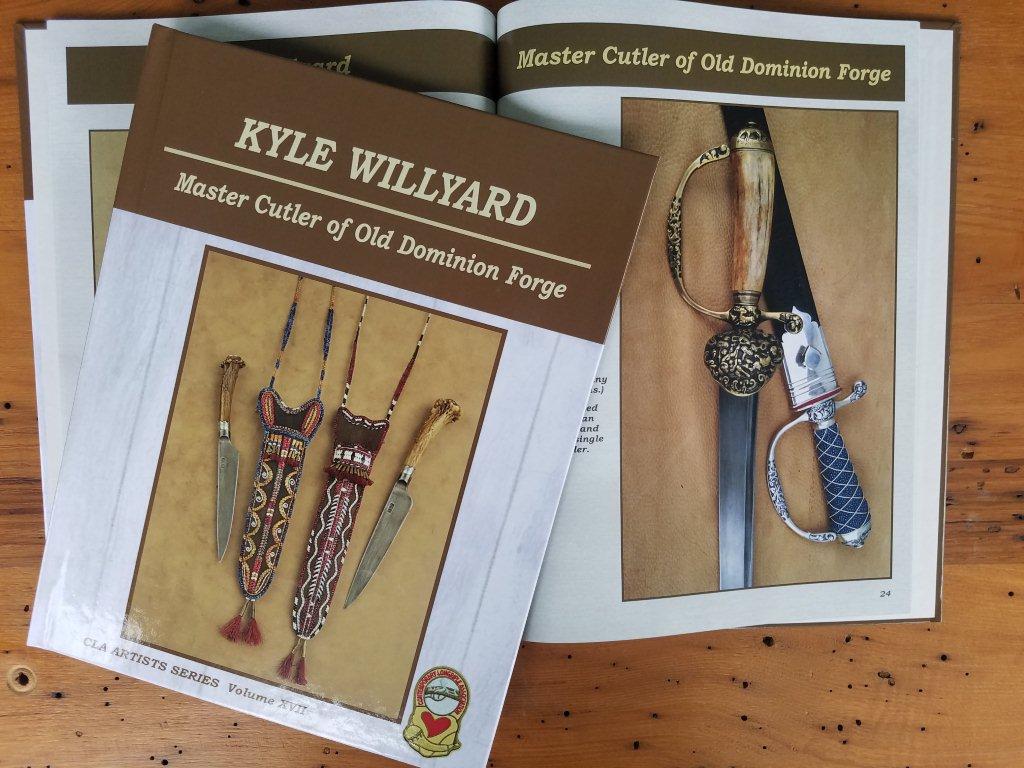 New Book! - I am pleased to announce the release by the CLA of a new book featuring my work, written by Gordon Barlow. The book features selected pieces of my work from the past several years; 32 full-color pages of knives, swords, and tomahawks. Books are available for $20 each, plus shipping.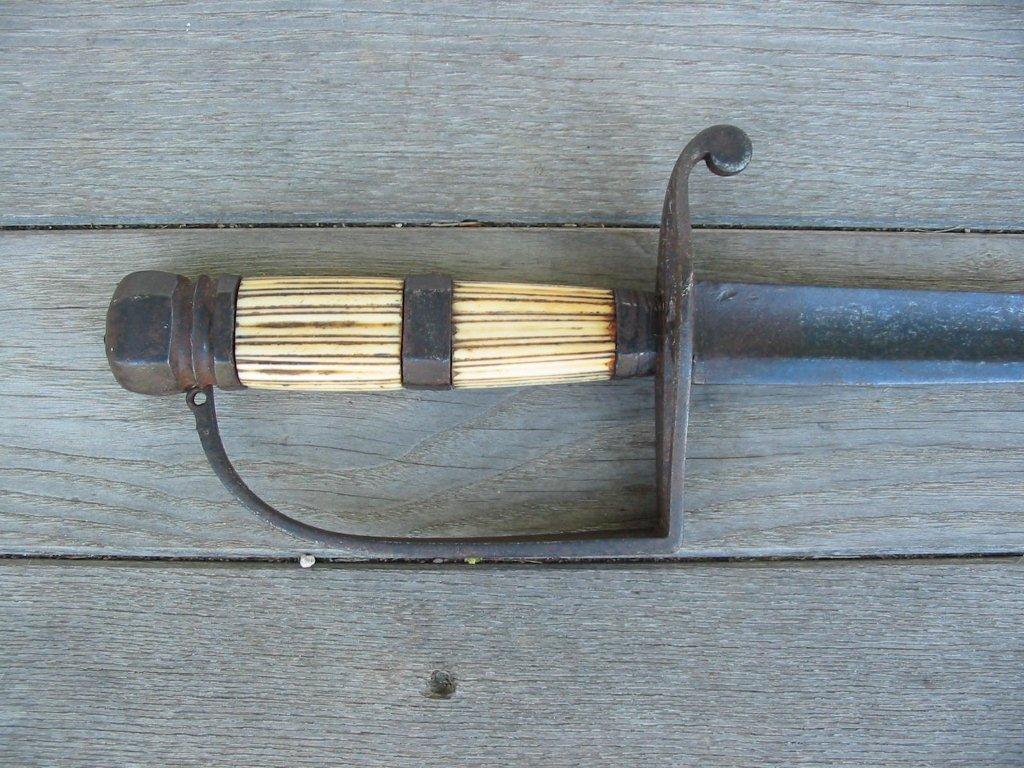 See our Antique Arms page for a complete selection of antique firearms and swords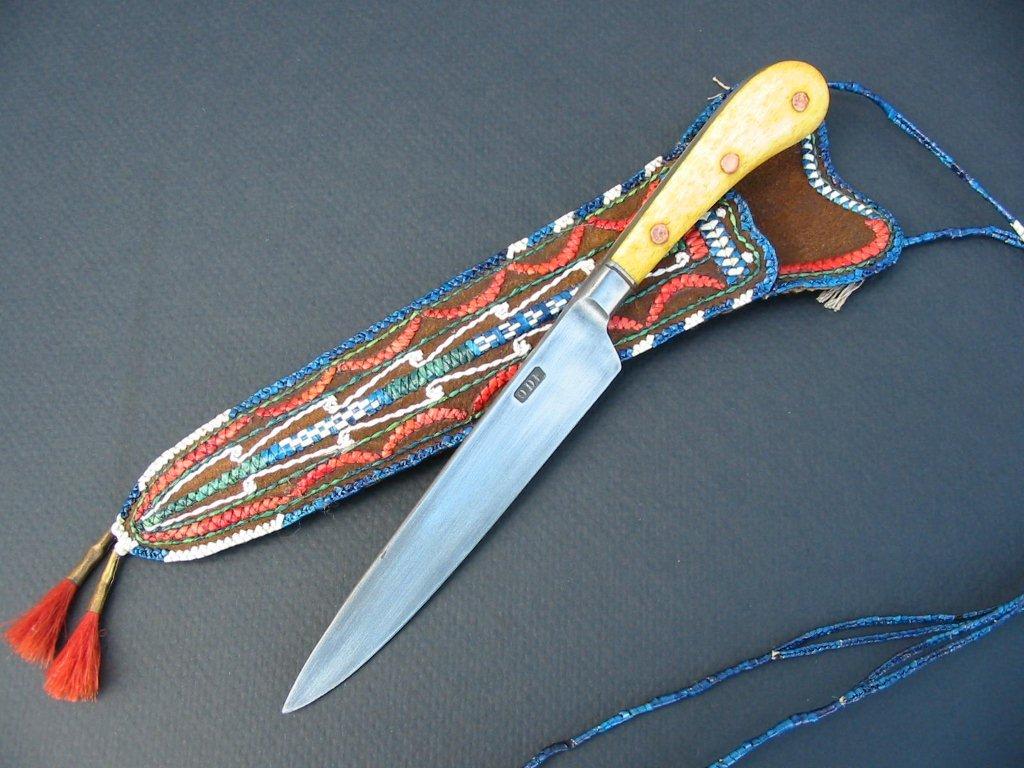 SOLD - Small Bone Handle Neck Knife with Quilled Sheath by Lally House. See our Knives page for more.
Knife & Fork Set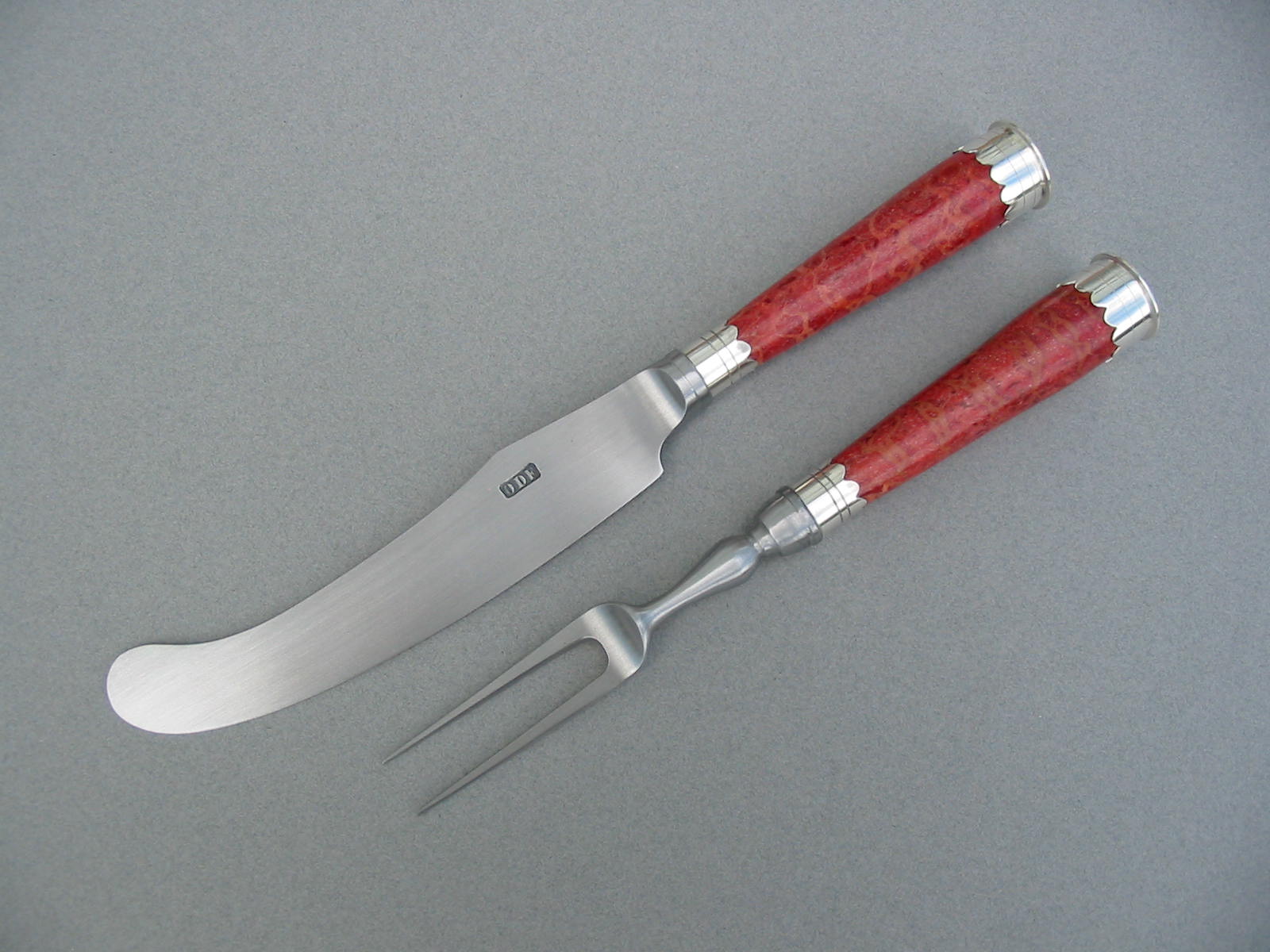 Georgian Knife & Fork A close reproduction of a late 18th century knife and fork. Set features hand forged blades, sterling silver hardware, and coral handles. Coral was just one of many exotic materials used on high-end English cutlery of the period. This set has been exactingly reproduced from original examples, and I feel one of the best ever offered. Knife measures 9 1/2 inches long, fork 7 3/4 inches. SOLD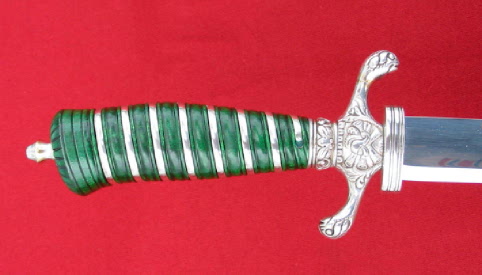 Copy of George Washington Battlesword recently made for a customer. See our Swords page for more details and other pieces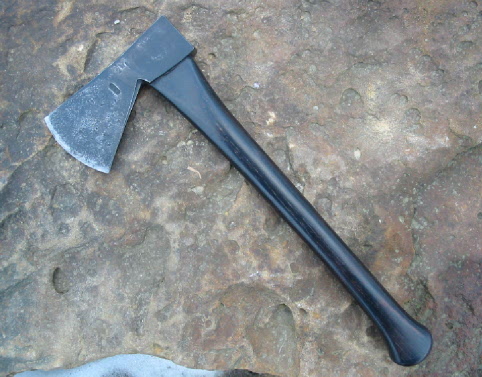 Belt Axe. See our axe page for our complete line.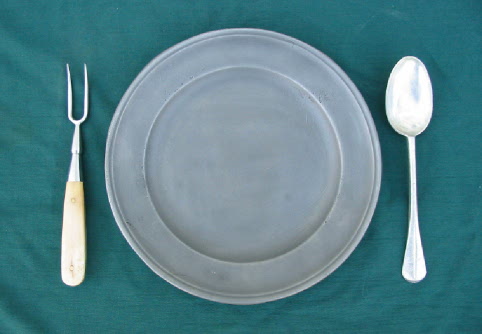 Pewter Plates We now offer fine pewter plates, hand cast in original molds. Available in two finishes.
For more details on these plates as well as our full line of 18th century spoons and utensils, see our Pewter/Dinnerware page for details
Poll Tomahawk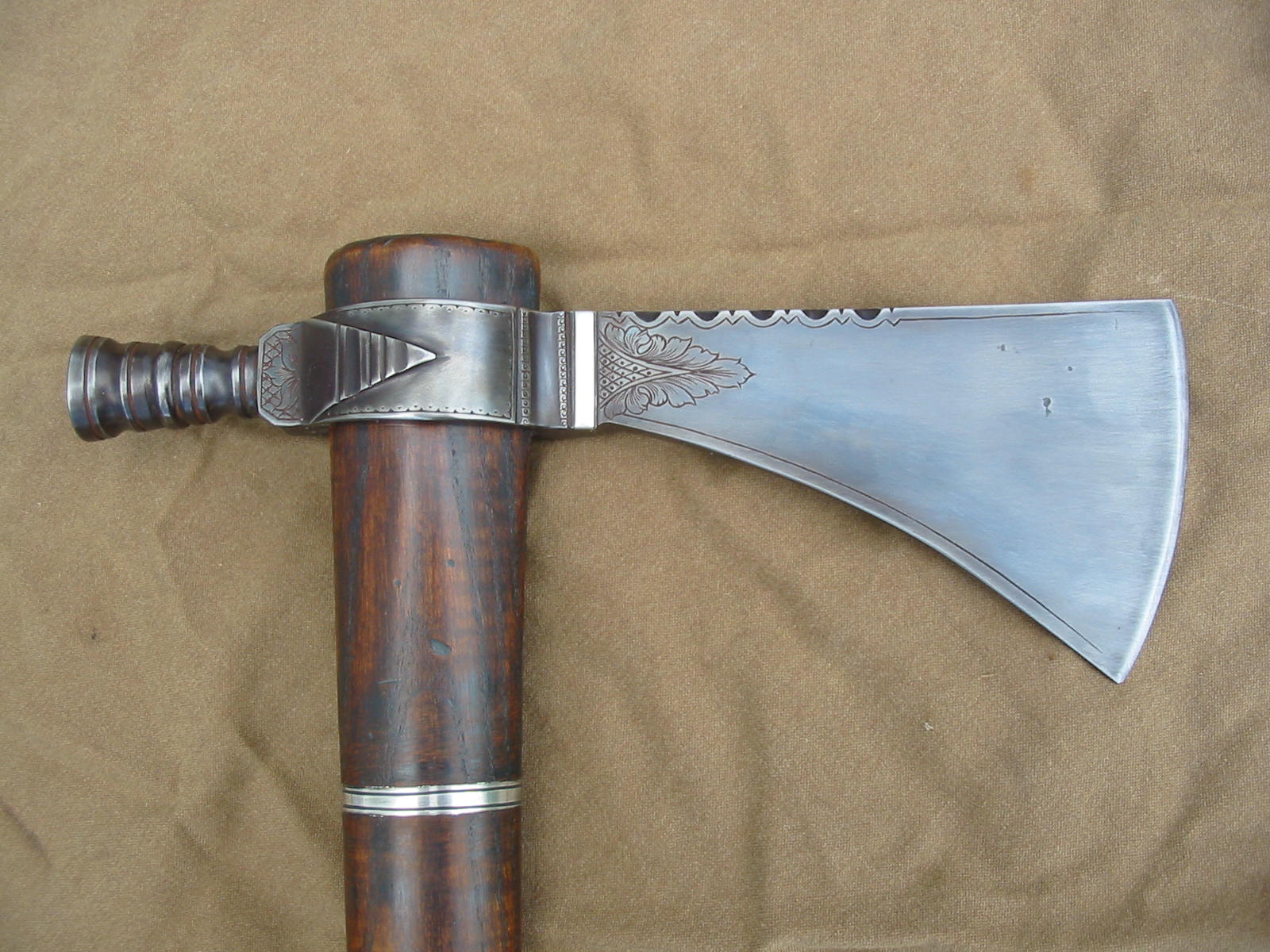 Poll Tomahawk Hand forged with high carbon bit. The blade features an aged finish with sterling silver inlays, as well as file work and engraving. The curly ash handle is accented with two pewter bands and a distressed finish. Measures 19 inches tall, head is 8 inches long. SOLD
Pipe Tomahawk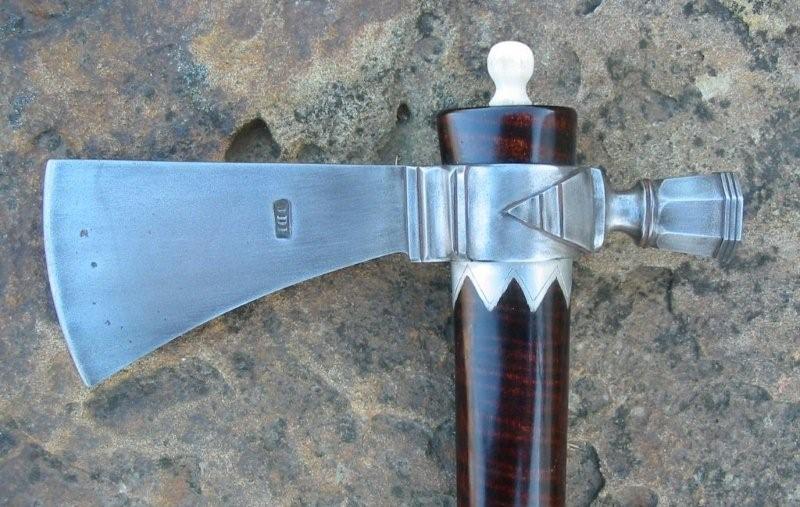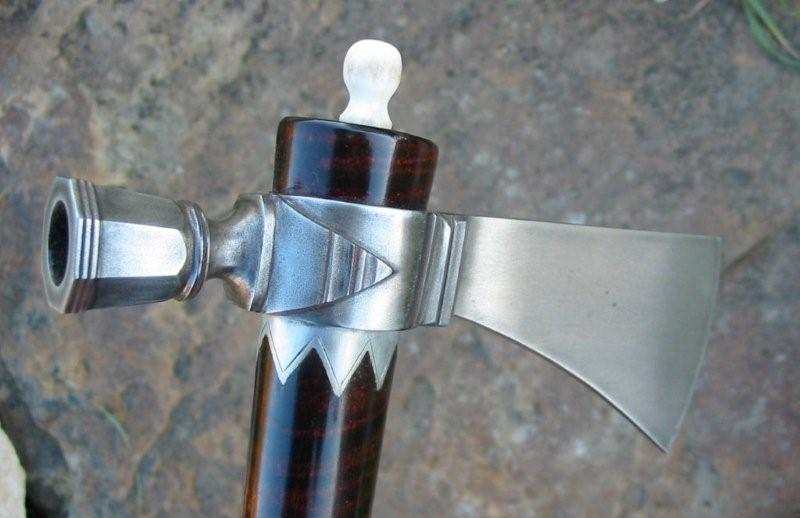 SOLD - Hand Forged Pipe Tomahawk Head forged from a rifle barrel with hardened steel bit welded in for the cutting edge. This hawk features extensive file work, an exceptional curly maple handle, and pewter inlay. Carved antler plug caps off the handle at the top. Aged finish. Axe measures 18 1/4 inches tall, head is 6 7/8 inches long by a 2 3/8 inch cutting edge.
$750
Powder Horns by Carl Willyard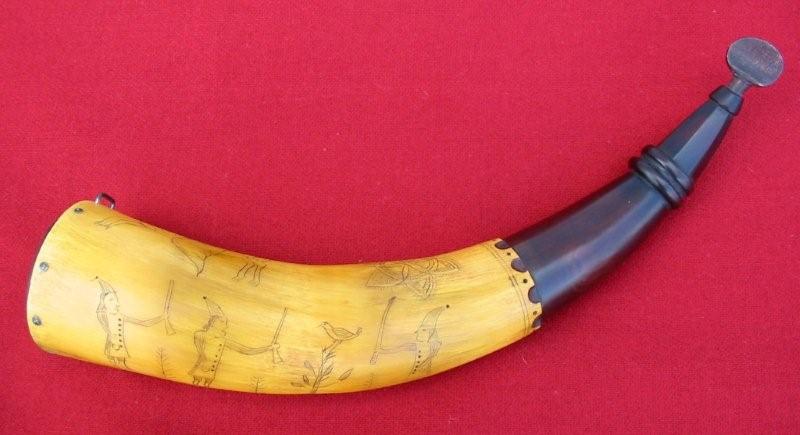 See our powder measures page for more details
Game Hook with antler tine handle. Stamped with "ODF" touchmark.
SOLD
Early Spanish Dollar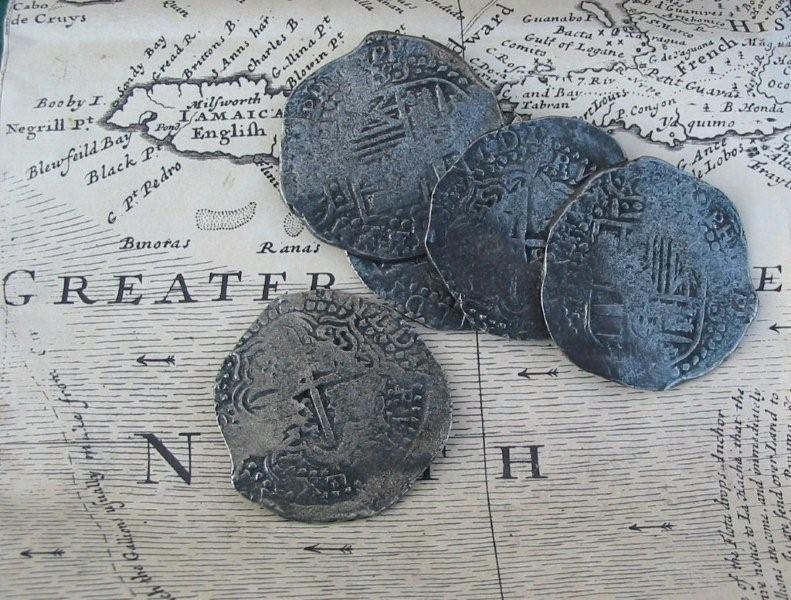 The famous "Spanish Dollar... Pieces of Eight! for those recreating the 17th, early 18th century, or Golden Age of Piracy, this is the correct 8 Reale. Copied directly from an original in fine pewter, aged finish.
$2 each or set of 10 for $17
Pieces of Eight Coin Sets
Includes: One whole 8 Reale, one coin cut into one half and two quarters, and one coin cut into eight pieces. $8 set
Colonial Coins
Reproductions of some of the most common coins in circulation in colonial North America. The colonies and early US were always short of hard currency of their own. English, French, and Spanish colonial coins made up much of the currency in circulation. These coins are cast in fine pewter from molds made directly from original coins, so they capture the wear and look of actual circulated coins. Coins are $2 each, or $12 for a set of all 7 coins.
1758 Mexican 8 Reale or "Pillar Dollar" (top left)
1727 French Ecu, Louis bust (top right)
1707 English Half Crown, Queen Anne bust (middle left)
1723 English Shilling, George I (middle right)
1779 Mexican 2 Reale, Carolus bust (bottom left)
1756 Mexican 2 Reale, Pillar style (bottom middle)
1762 Mexican 1 Reale, Pillar style (bottom right)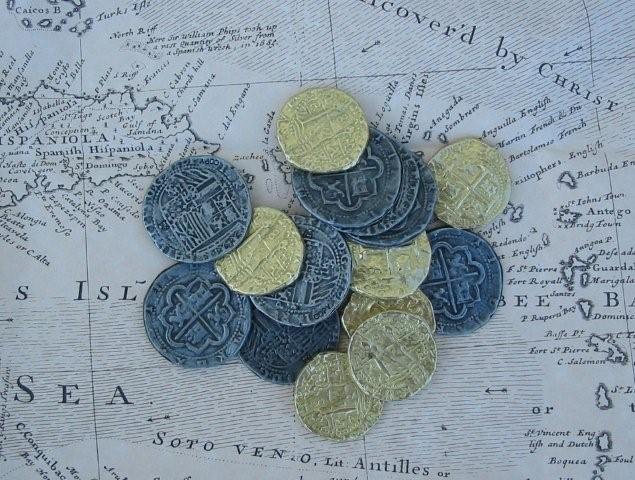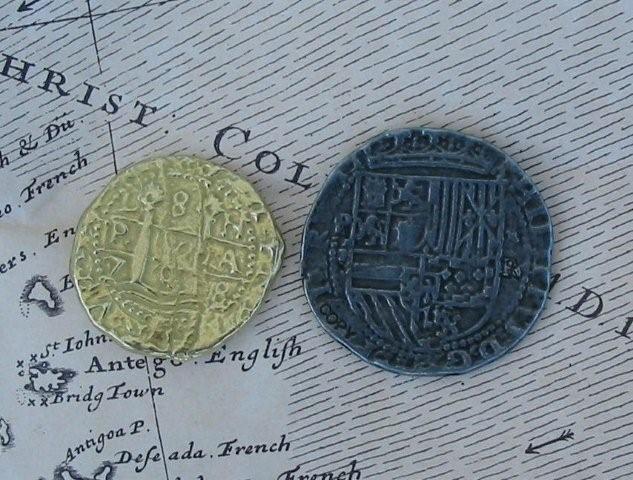 Copies of the famed Spanish Doubloon and Dollar in gold finish and antique silver finish.
Gold Escudo or Doubloon (1 1/8 inch dia.): $2 each
8 Reale or Spanish Dollar (1 3/8 inch dia.): $2 each
Set of 10 coins: $15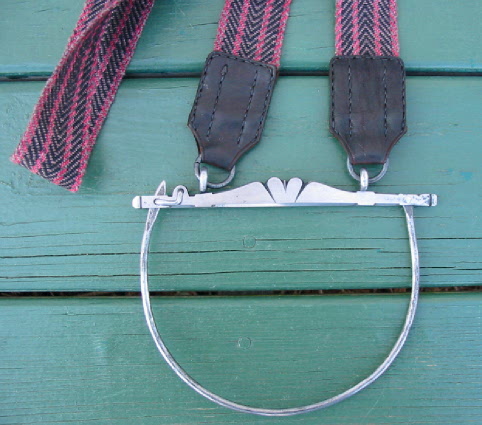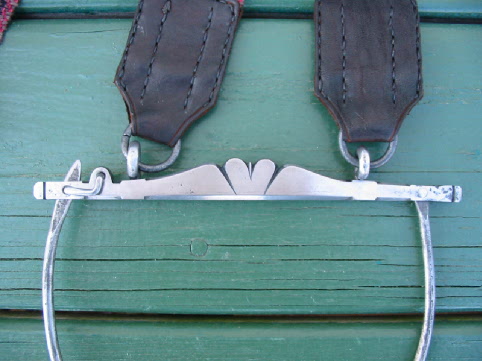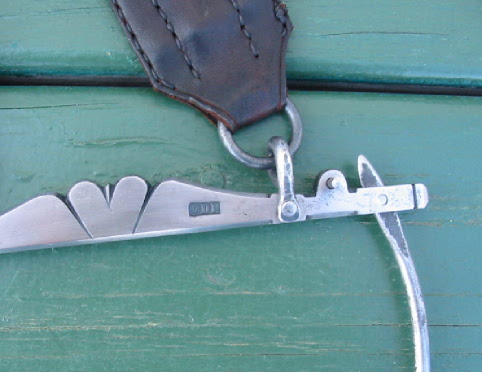 SOLD - GAME HANGER Patterned after an early original as seen in Madison Grant's The Kentucky Rifle Hunting Pouch, this hanger is the ultimate for the gentleman hunter. Completely hand forged and filed, this hanger features a double-locking mechanism and lots of embellishment. Paired with a C. J. Wildey hand-wove linen and wool strap in red and black strip and herringbone pattern. Hand sewn leather tabs.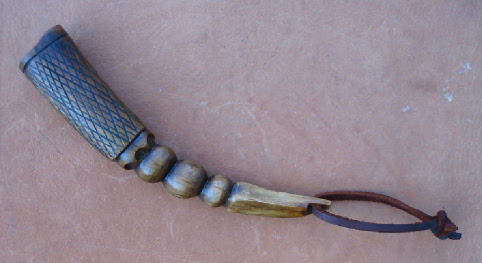 Carved Antler Powder Measures. See our powder measures page for more.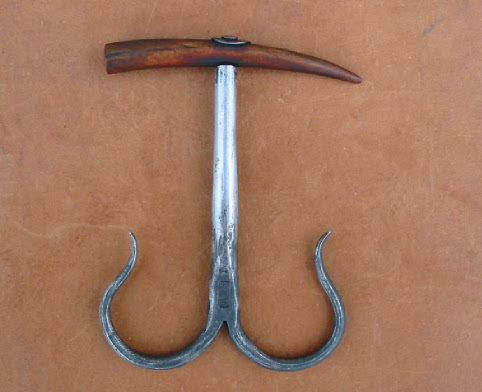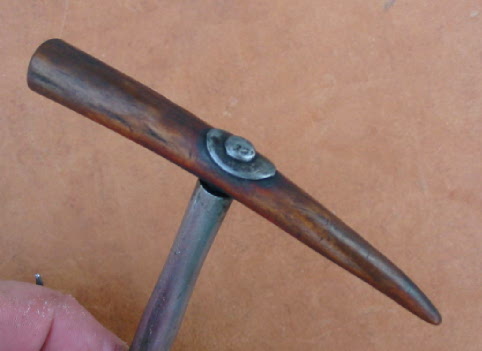 GAME HOOKS for the gentleman hunter of small game. Hook the tine through a loop on your hunting pouch or the button hole of your coat, leaving your hands free to continue hunting. Forged steel hanger with antler tine. Hanger is solidly constructed, riveted over the tine with an iron washer. SOLD
See our Soldiers page for our complete selection!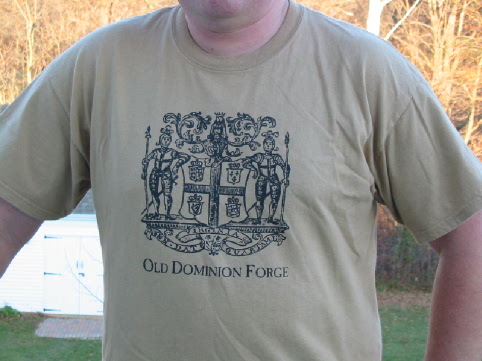 Old Dominion Forge T-Shirts Black logo on tan shirt. Size XL or 2XL only. Only $12 with any purchase.
For information about the goods and services of Old Dominion Forge, please select one of the following links:
Ordering Information
You may pay with checks, money orders or by using by using your credit card securely through PayPal. To use PayPal, just click on the link below and follow the instructions.
Most items will be shipped USPS. Please request shipping cost before ordering. If the item is not in stock when you place your order, you will be given a projected delivery date. Please allow 2-3 weeks for delivery of the items in stock. If, when you receive your order, you find any problem, let me know as soon as possible. Prices are subject to change without notice. Indiana residents, please add 6% state sales tax.
Send email to
Old Dominion Forge
Or, write to:
Old Dominion Forge
Kyle Willyard
4186 N State Road 157
Bloomfield, IN 47424
812-875-8480

All web pages, images and text Copyright © Old Dominion Forge, 1997, 2004, 2005