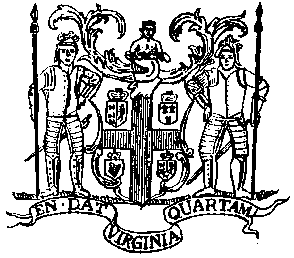 Kyle and Laura Willyard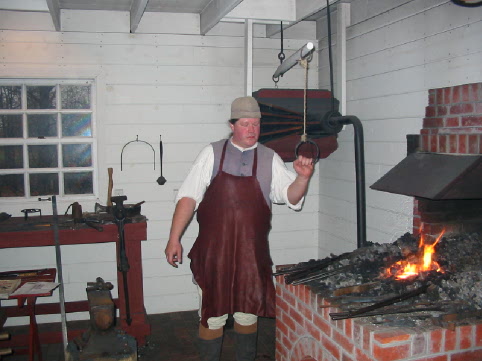 Kyle at the forge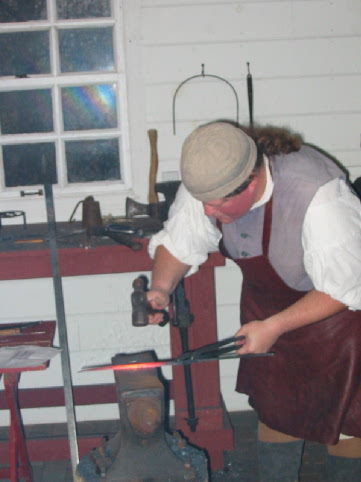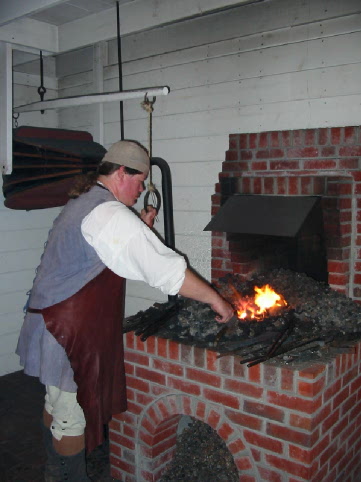 ABOUT OLD DOMINION FORGE
Kyle Willyard at Old Dominion Forge has been making fine, hand-forged knives, swords and axes for over 10 years now. His focus is entirely on the 18th century; that is the only time-period he does. In addition to period cutlery, Kyle also casts most of the fine pewter items you will find on this site. They also stock other items, which you should find useful, but rest assured, cutlery will always be the focal point.
Kyle strives to make some of the most accurate, blades that you will find anywhere. His cutlery is based on original examples, and considerable research goes into each piece before it is built. Kyle's work has a "period" feel that is the product of the traditional methods used during construction. He starts with only the best materials, and hand selects all wood, antler and bone used on his work. Blades are forged, draw-filed, and polished by hand. Then, traditional, hand-rubbed finishes are applied to the handles. He believes the extra touches are worth it. Old Dominion Forge may be a bit more expensive than some, but you will find the fit, finish and workmanship to be second to none.
Over the years they have outfitted countless re-enactors and living historians. In fact, much of their business is from repeat customers, who have been so well satisfied with their work that they often own several "ODF" knives. Kyle's blades are carried by some of the most respected individuals in living history, and his customers include the National Park Service; Virginia State Parks, Wilderness Road; various museums and museum shops, and even Walt Disney Pictures.
In August 2002, Old Dominion Forge had the privilege to take on some work for the Jerry Bruckheimer/Walt Disney production, Pirates of the Caribbean. They made several axes and hatches that were used in the movie, as well as providing a few swords and knives.
Kyle worked on several key props for the HBO miniseries, John Adams, including a reproduction of Gen. Washington's battle sword.
My effigy knife paired with quillwork sheath by Djuana Tucker featured Featured on the cover of the October 2009 issue of National Muzzleloading Rifle Association Magazine, Muzzle Blasts. Photo by Lon Brauer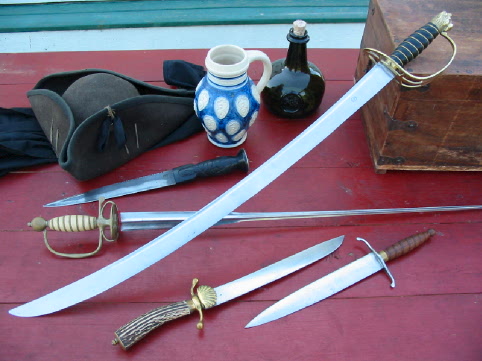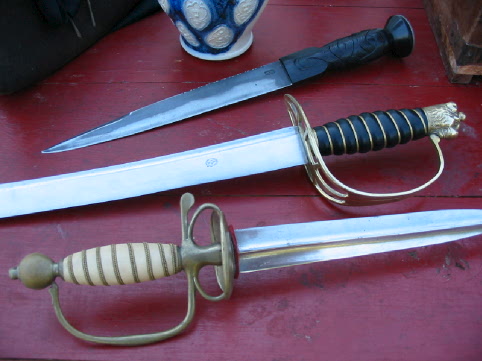 An assortment of swords and knives made for Pirates of the Caribbean.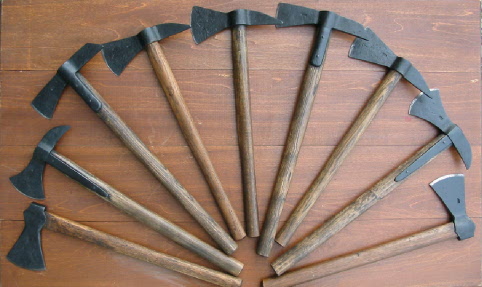 A collection of boarding axes and hatchets made for Pirates of the Caribbean.
Below is work we did for the HBO miniseries, John Adams.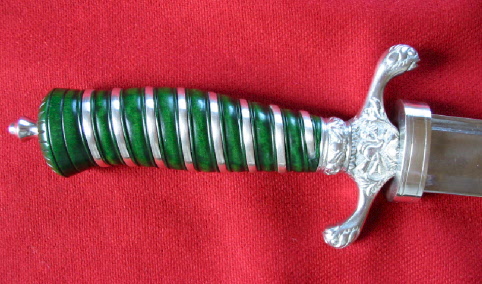 Copy of George Washington's battle sword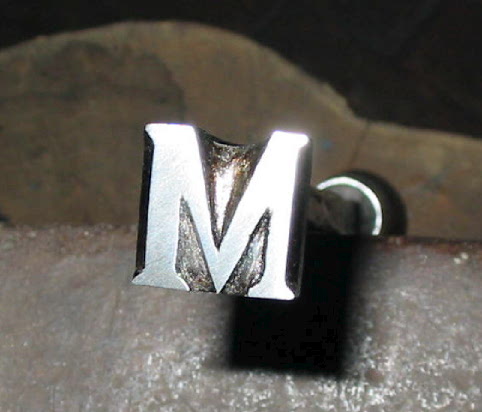 "M" Thumb Brand
Polished Pewter Spoons made for the production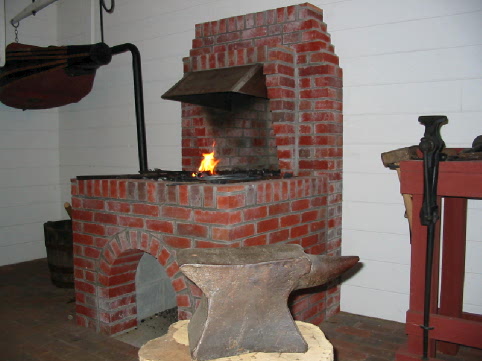 Kyle's work has been featured in several publications, including articles by
Mark Baker, Muzzleloader Magazine; and John Curry, Muzzle Blasts.
Below are a couple photos of our table, taken at the 2008 Contemporary Longrifle Association Show in Lexington Kentucky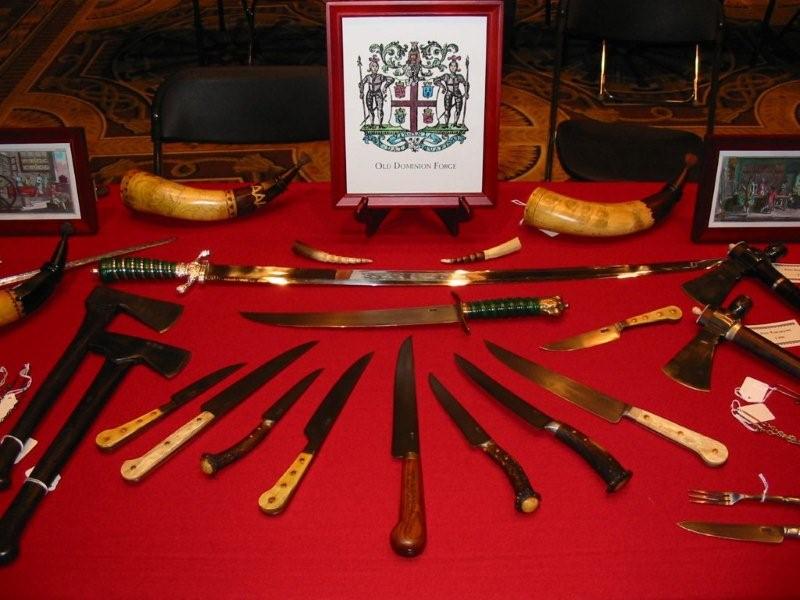 Photos from the 2007 Contemporary Longrifle Association Show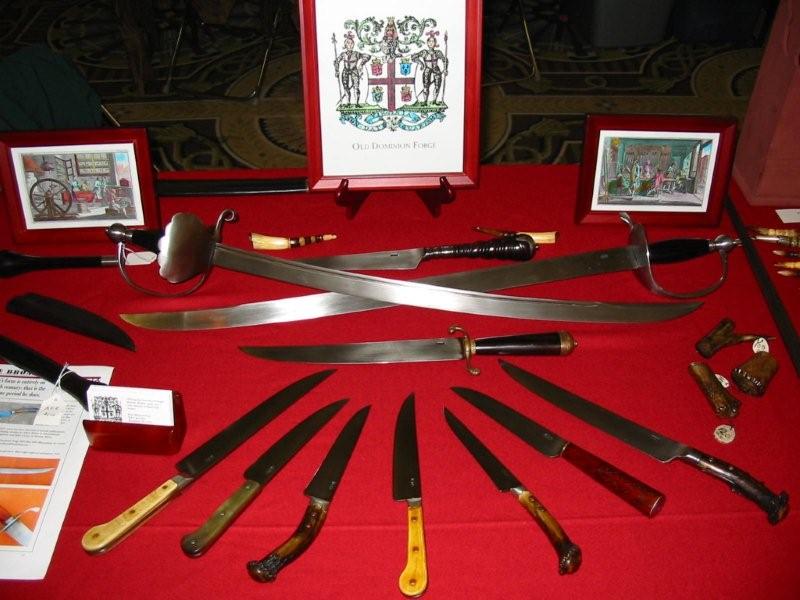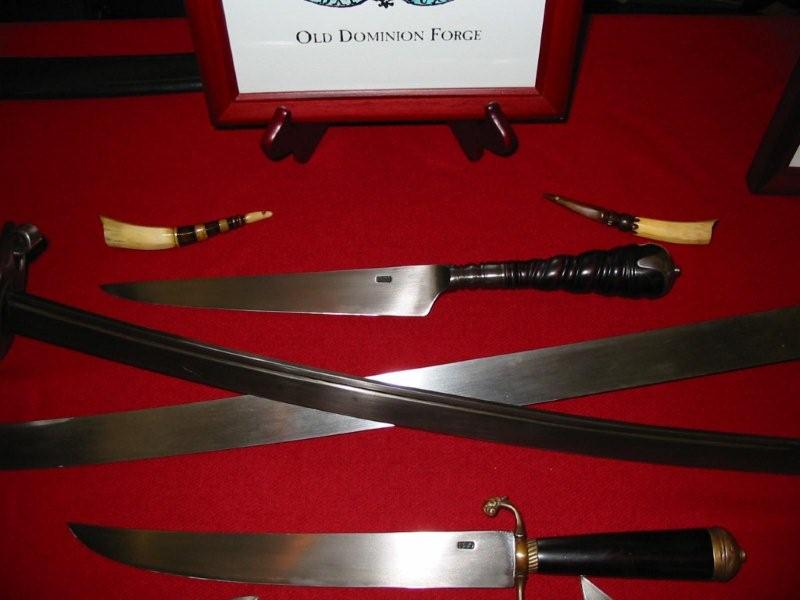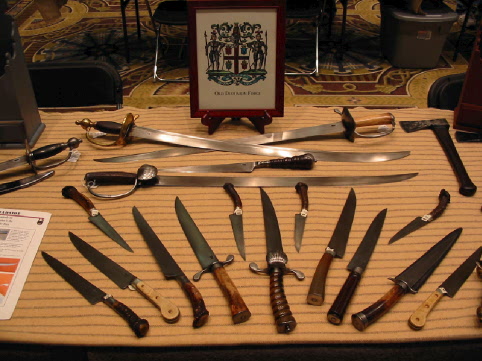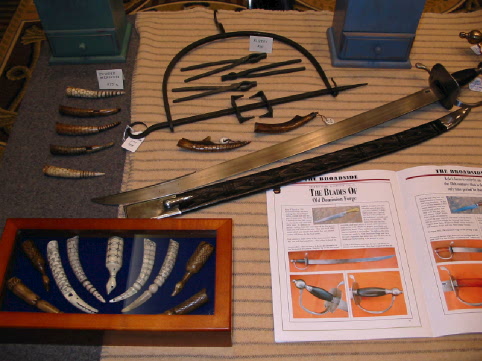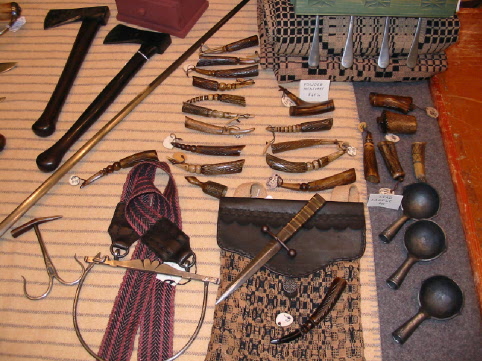 Contemporary Longrifle Show 2006 Lexington Kentucky
For information about the goods and services of Old Dominion Forge, please select one of the following links:
Send email to Old Dominion Forge
Or, write to:
Old Dominion Forge
Kyle Willyard, Prop.
RR5 Box 83N
Bloomfield, IN 47424

All web pages and images Copyright © Old Dominion Forge, 1997