USEFUL & SUNDRY ITEMS
Now you can pay with your credit card
Just follow this link:
Early Spanish Dollar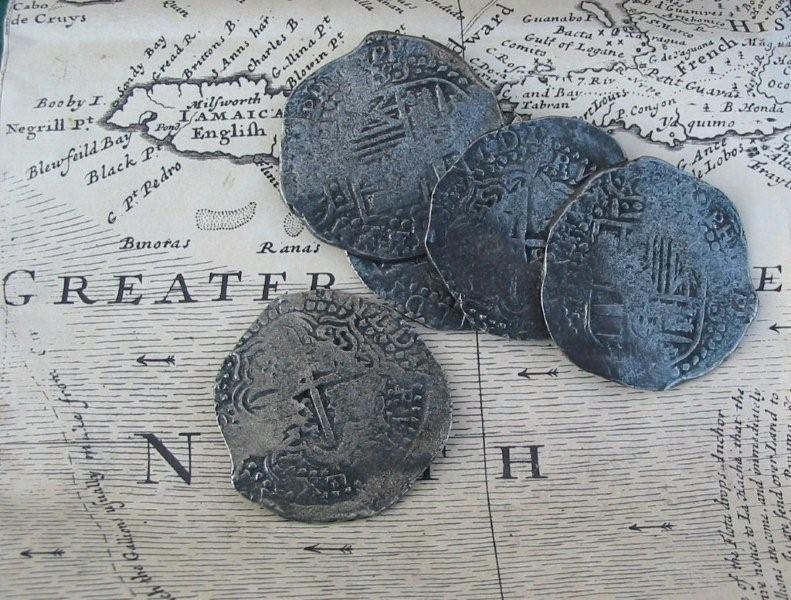 The famous "Spanish Dollar... Pieces of Eight! for those recreating the 17th, early 18th century, or Golden Age of Piracy, this is the correct 8 Reale. Copied directly from an original in fine pewter, aged finish.
$2 each or set of 10 for $17
Pieces of Eight Coin Sets
Includes: One whole 8 Reale, one coin cut into one half and two quarters, and one coin cut into eight pieces. $8 set
Colonial Coins
Reproductions of some of the most common coins in circulation in colonial North America. The colonies and early US were always short of hard currency of their own. English, French, and Spanish colonial coins made up much of the currency in circulation. These coins are cast in fine pewter from molds made directly from original coins, so they capture the wear and look of actual circulated coins. Coins are $2 each, or $12 for a set of all 7 coins.
1758 Mexican 8 Reale or "Pillar Dollar" (top left)
1727 French Ecu, Louis bust (top right)
1707 English Half Crown, Queen Anne bust (middle left)
1723 English Shilling, George I (middle right)
1779 Mexican 2 Reale, Carolus bust (bottom left)
1756 Mexican 2 Reale, Pillar style (bottom middle)
1762 Mexican 1 Reale, Pillar style (bottom right)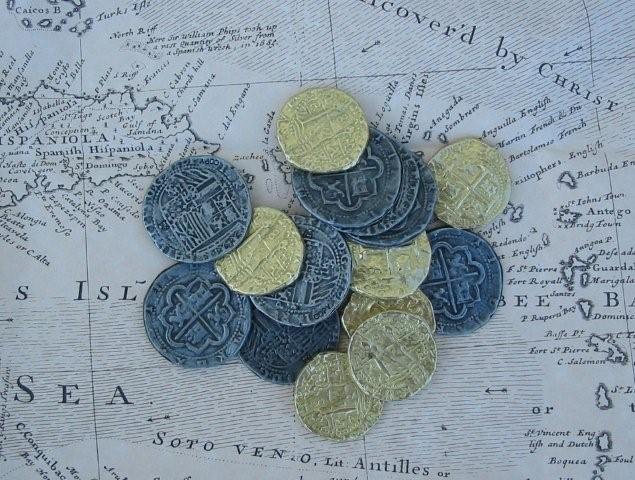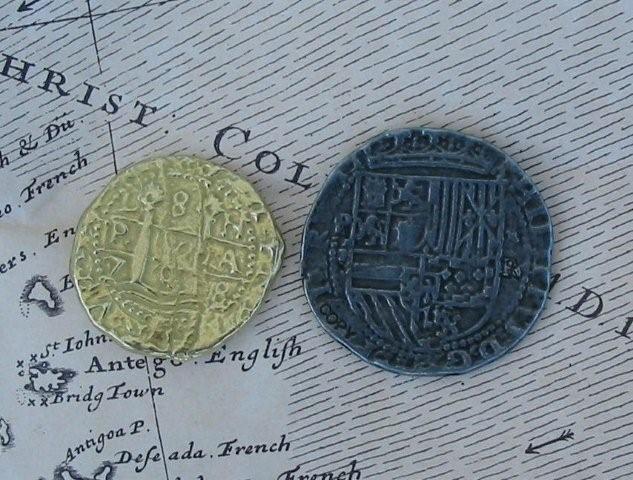 Copies of the famed Spanish Doubloon and Dollar in gold finish and antique silver finish.
Gold Escudo or Doubloon (1 1/8 inch dia.): $2 each
8 Reale or Spanish Dollar (1 3/8 inch dia.): $2 each
Set of 10 coins in a drawstring bag: $15
Send email to Old Dominion Forge
Or, write to:
Old Dominion Forge, Kyle Willyard, Prop.
4186 N State Road 157
Bloomfield, IN 47424