ANTIQUE ARMS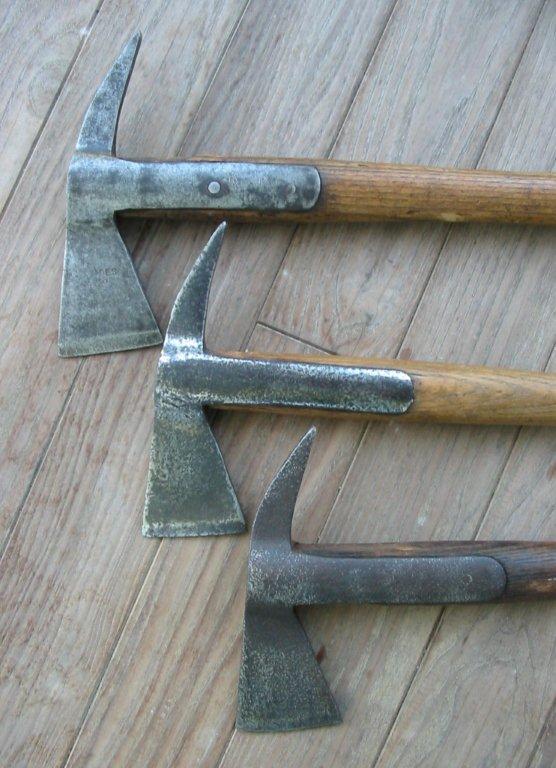 Original English Boarding Axes Axes of the type used by the British Navy. All have approximately approximately 2 3/4 inch by 7 1/2 inch head with 14 3/4 inch handle.
SOLD
Late 18th Century Dagger from a Broken Sword Once a fine, iron mounted small sword, which probably broken and then repurposed into a functional dagger. It retains the original wrapped grip including one of the turk's head ferrules, while the guard and quillion have been removed Blade measure 8 1/2 inches, 14 3/4 inches overall. A unique and one-of-a-kind piece. $550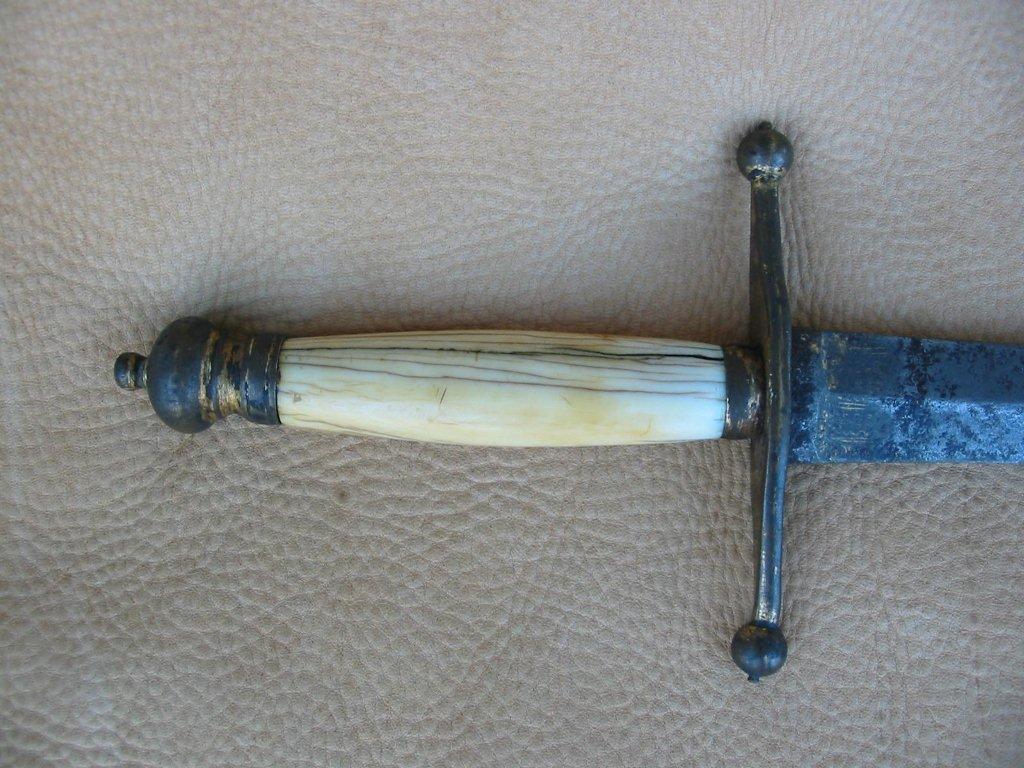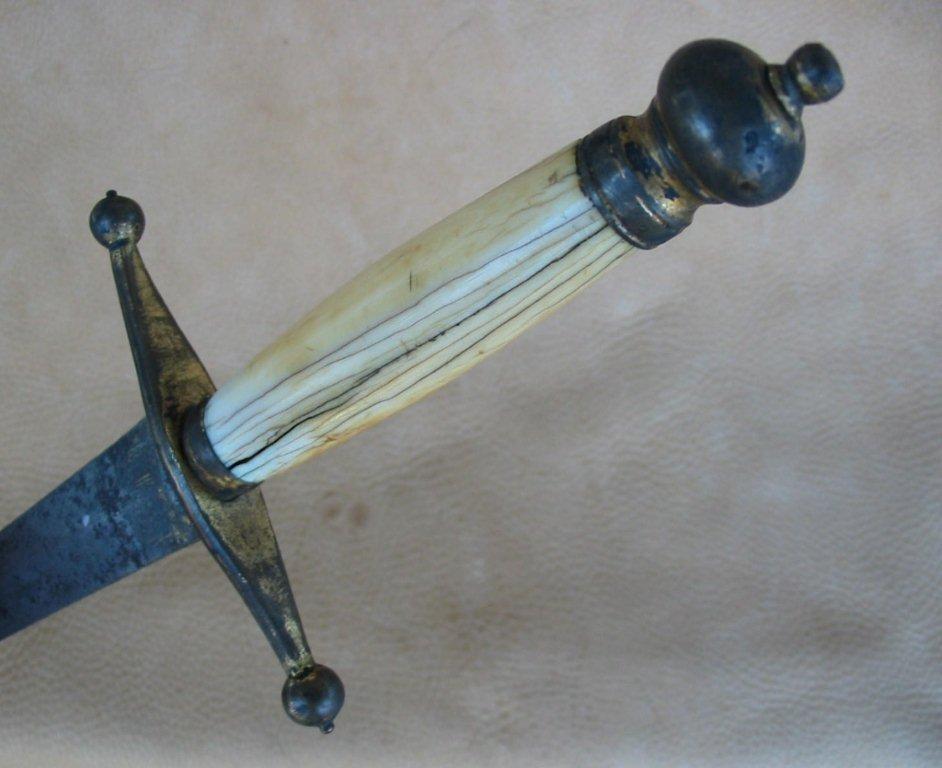 English or American Naval Dirk The double edge blade measures 17 inches. It has some slight pitting and a dark tone, with traces of the original gold design work. Ball cross guard and pommel retain some gilding. The beautifully toned grip is checked and cracked, but solid and stable. Some slight play in the handle components, which could be tightened up. $625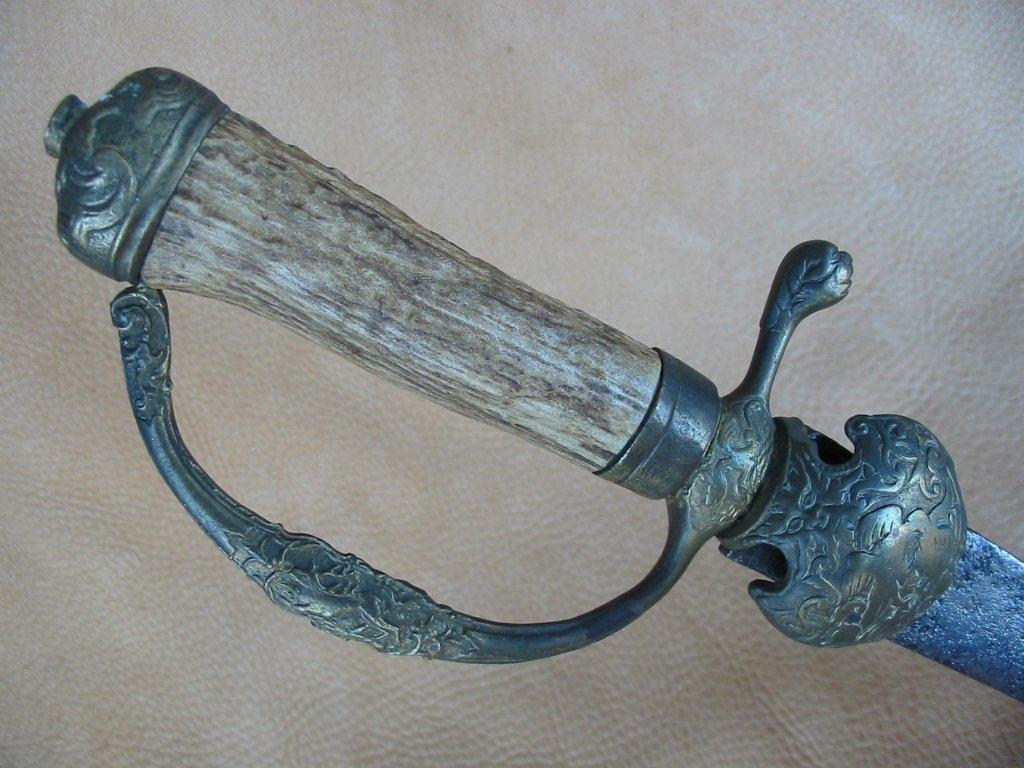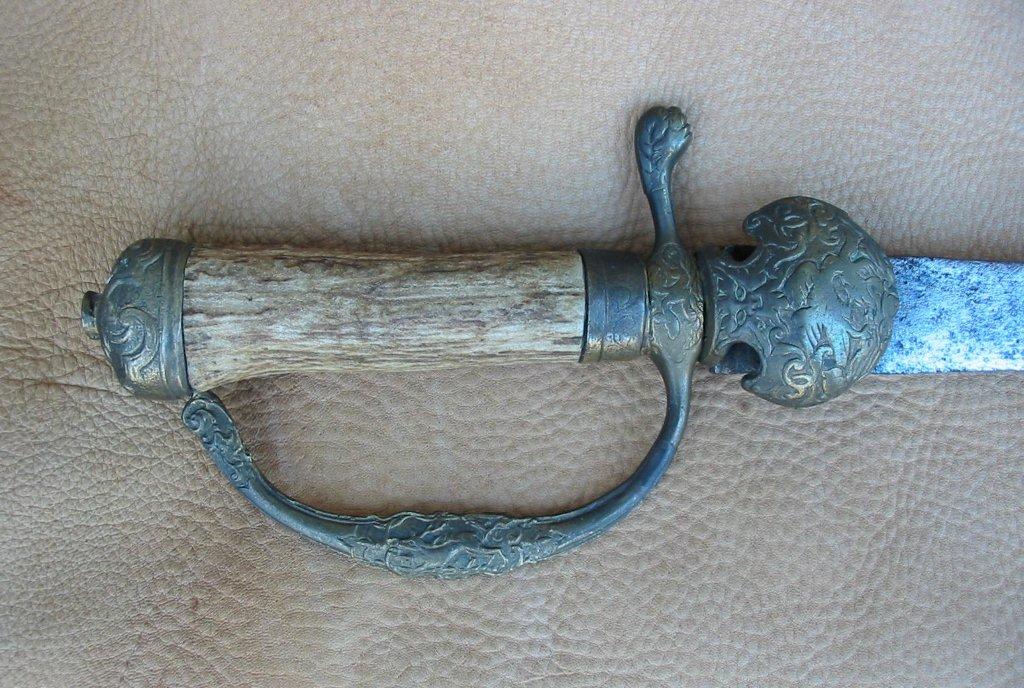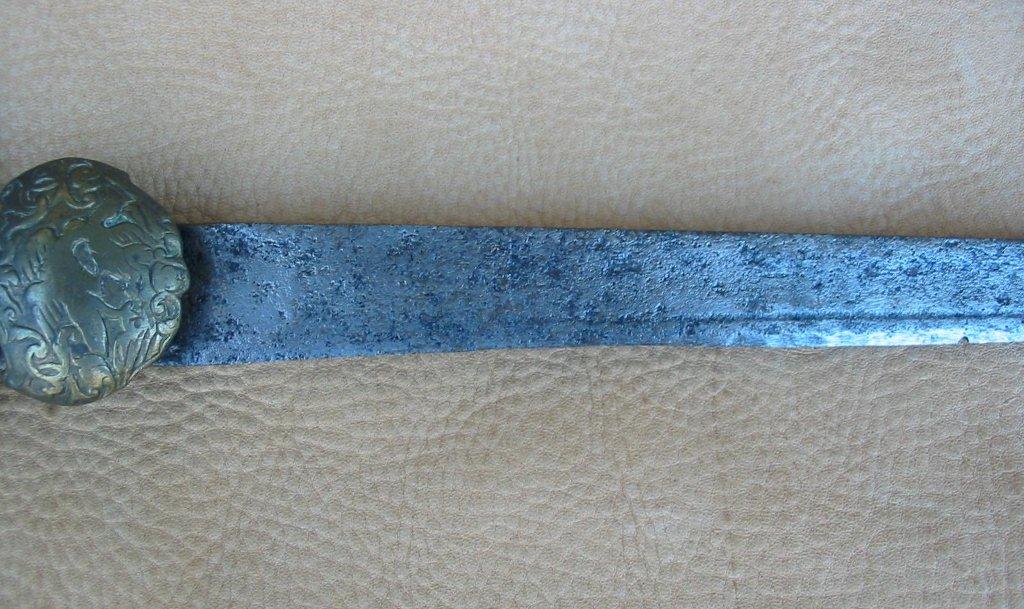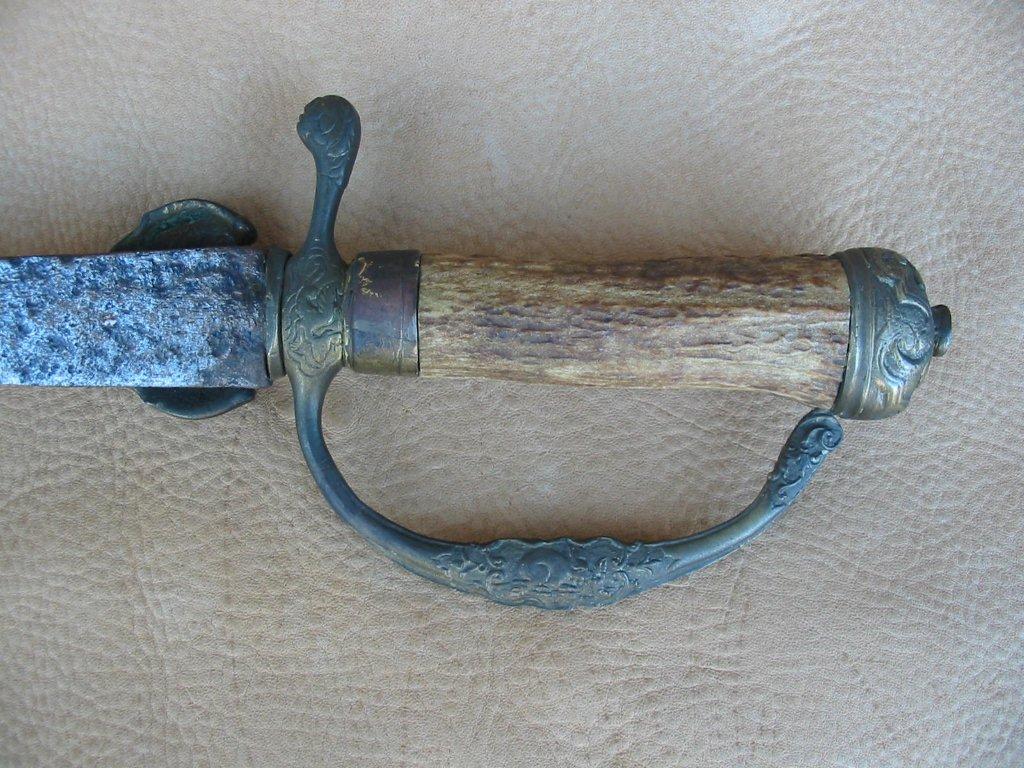 Early 18th Century Hunting Sword Sword features brass shell guard and pommel with an antler grip. The straight, 20 inch blade is of a very early style. The blade is in relic condition, with deep pitting and cleaning. That being said, the sword is solid and the components tight. A nice example of an early hunting sword. $575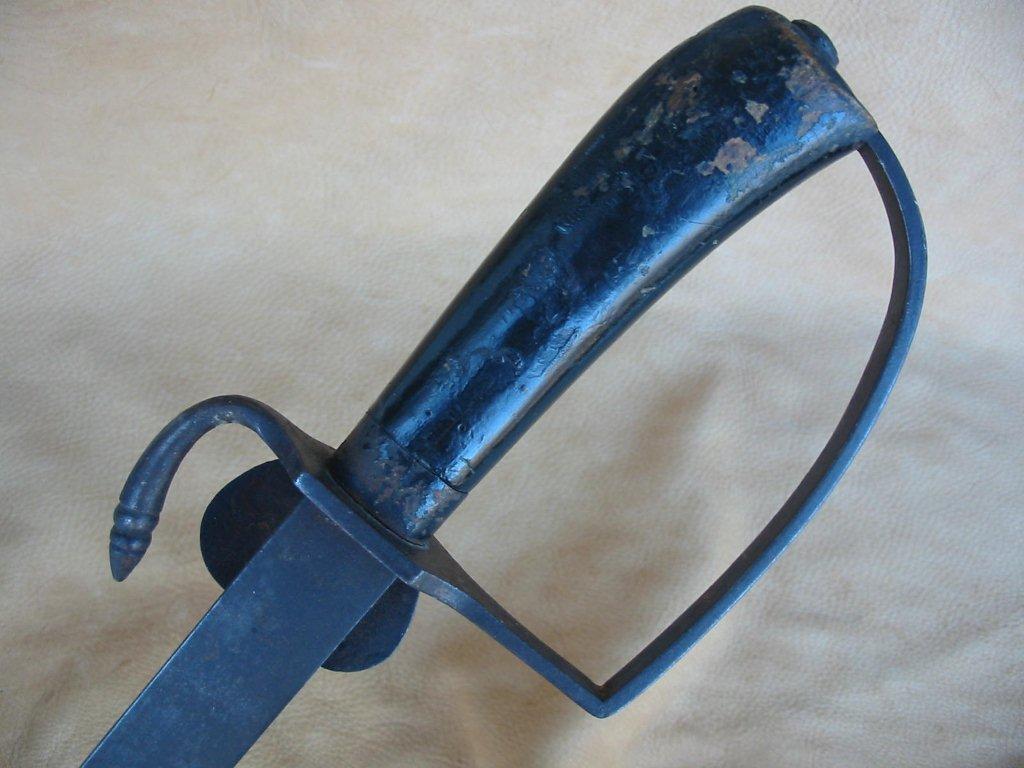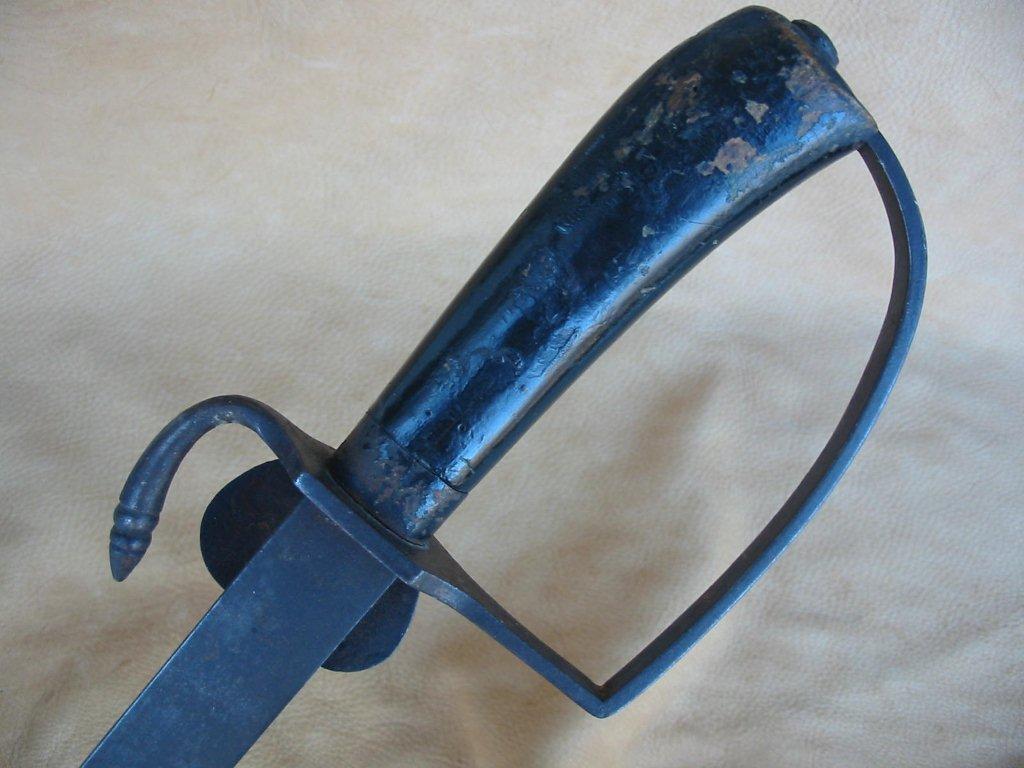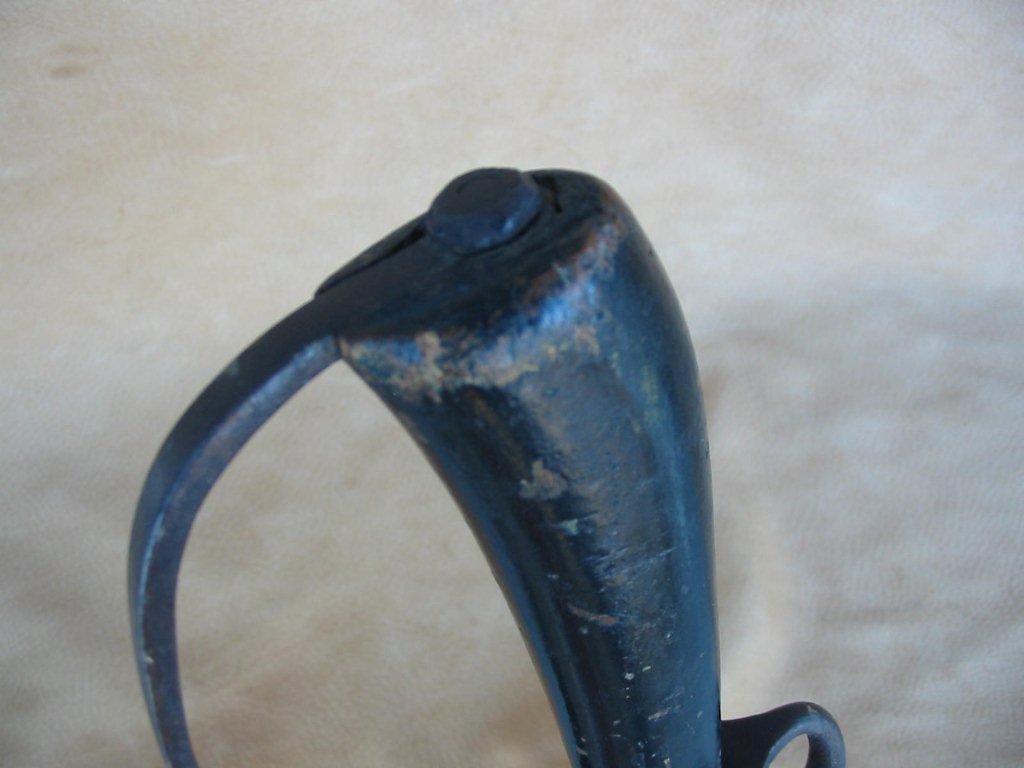 Iron mounted sword Sword features an iron shell and stirrup guard. Wooden grip has a black lacquer finish. Straight, 26 3/4 inch blade has a smooth, dark patina. Sword is solid an well-made, but has more of a local blacksmith-made appearance than that of a professional sword maker. $875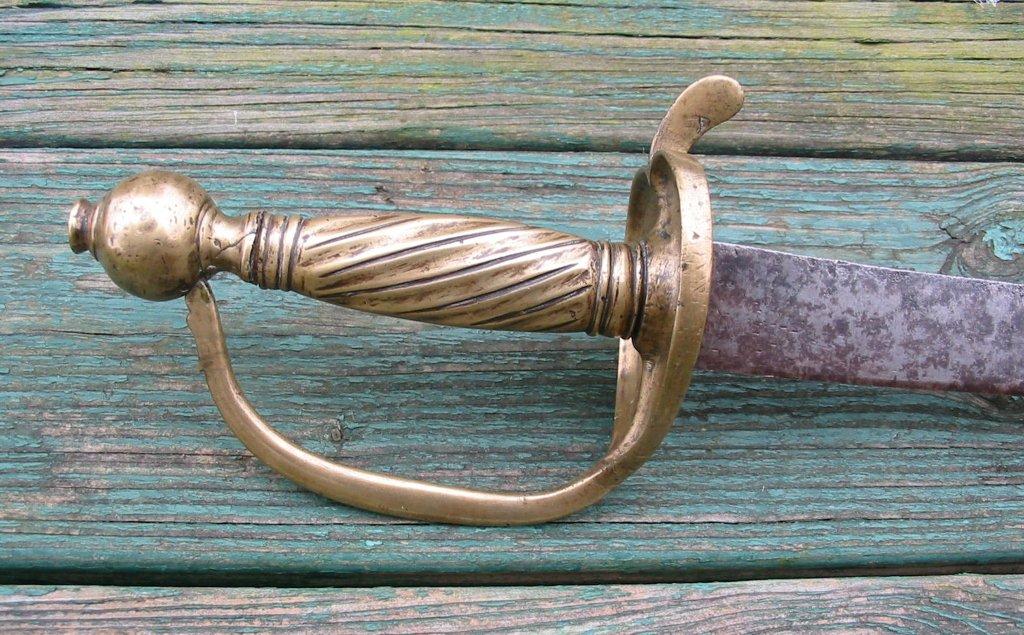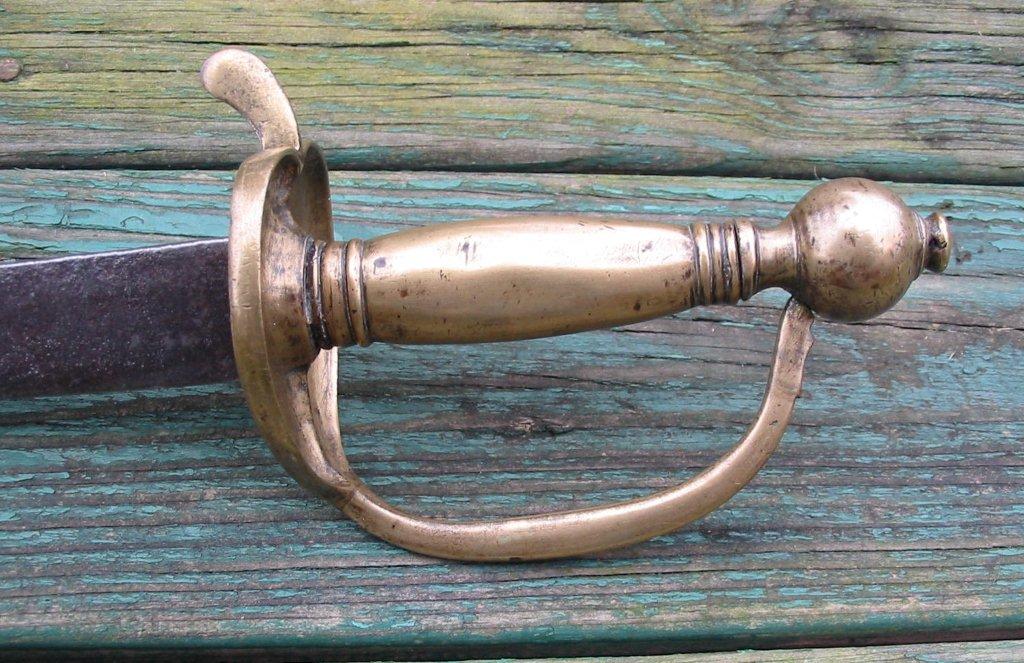 Late 18th Century Prussian Hanger Classic hanger with brass guard. The slightly curved, 22 3/4 inch blade has light pitting. $675
British 1803 Infantry Officer's Saber Curved, 31 inch blade with single, wide fuller. Wood grip shows trace remains of original leather and wire wrap. $850
Young Gentleman's or Musician's Smallsword Diminutive sized smallsword of the type often seen worn by well-to-do male children in portraits from the period. Straight, 27 1/4 inch rapier blade with single, middle fuller, marked "INAMM" on both sides. Gilded guard with wire wrapped grip. Pommel has the number "14" stamped on the side, which may indicate this was an "issued" weapon such as young musicians might have worn. $675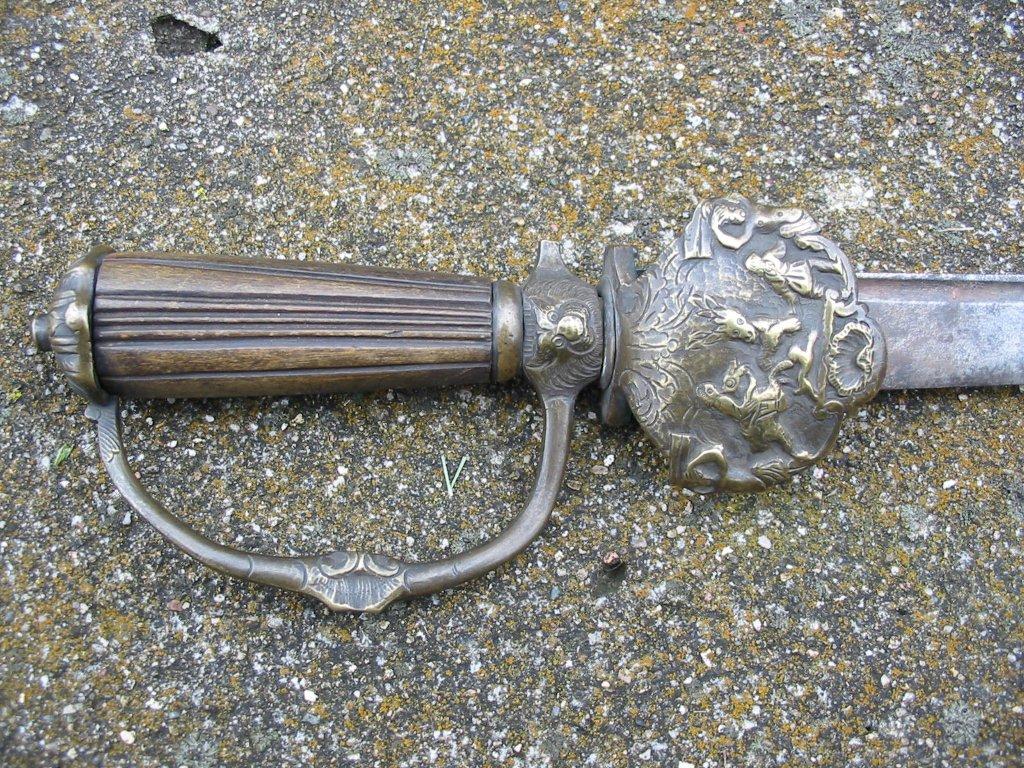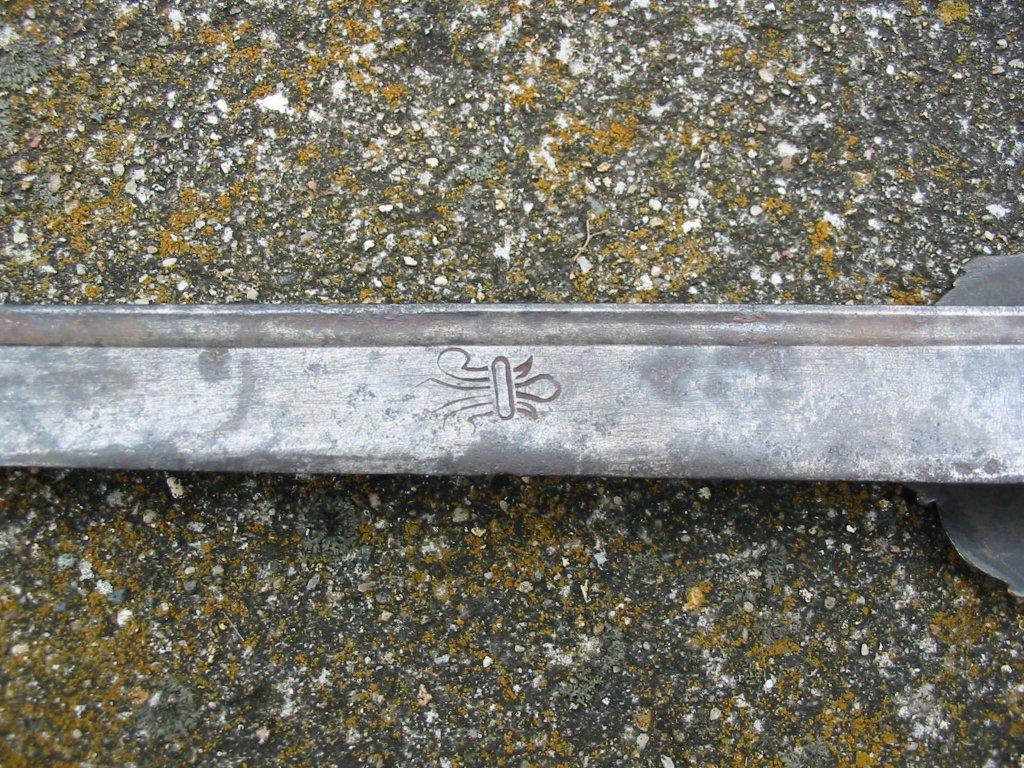 French Hunting Sword. Nice circa 1750 hunting sword with fluted horn grip, brass guard and shell. The straight 22 1/2 inch blade has a single back fuller and fleur-de-lis markings. Good patina, blade has some pitting and the quillion is missing from the guard. $800
Original Model "1767" French Hanger #1. Seen in several variations, this standard French hanger was used by both French and American soldiers during the American Revolution and in the years following. The 22 3/4 inch, typical hanger-style blade has a single, back fuller and is of a weight and quality that one would expect to see on an 18th century hanger. Guard is of the later, one-piece type, which may indicate an earlier blade that was retrofitted at some point during it's use. This sword is complete, with it's original, leather scabbard and hardware. Overall fair condition; the blade is dark with some pitting and guard is mounted at a bit of an angle, but is otherwise solid and tight. $650
Send email to Old Dominion Forge
Or, write to:
Old Dominion Forge, Kyle Willyard, Prop.
4186 N State Road 15720
Bloomfield, IN 47424