ANTIQUE ARMS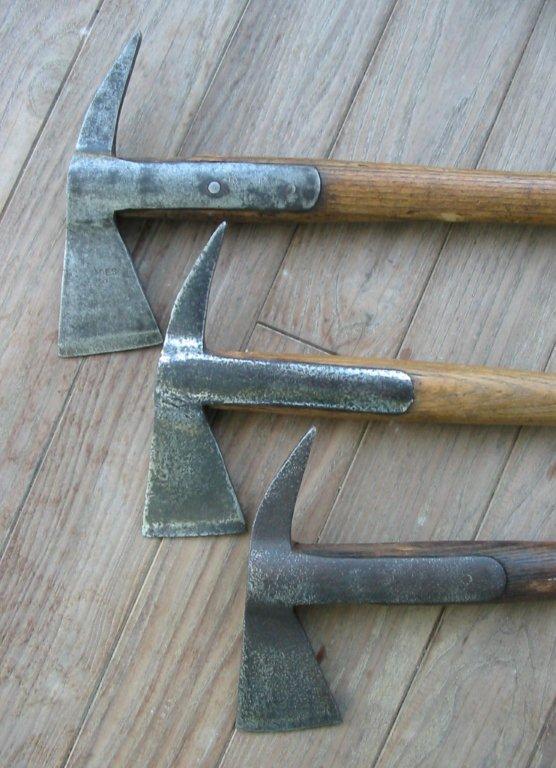 Original English Boarding Axes Axes of the type used by the British Navy. All have approximately approximately 2 3/4 inch by 7 1/2 inch head with 14 3/4 inch handle.
$200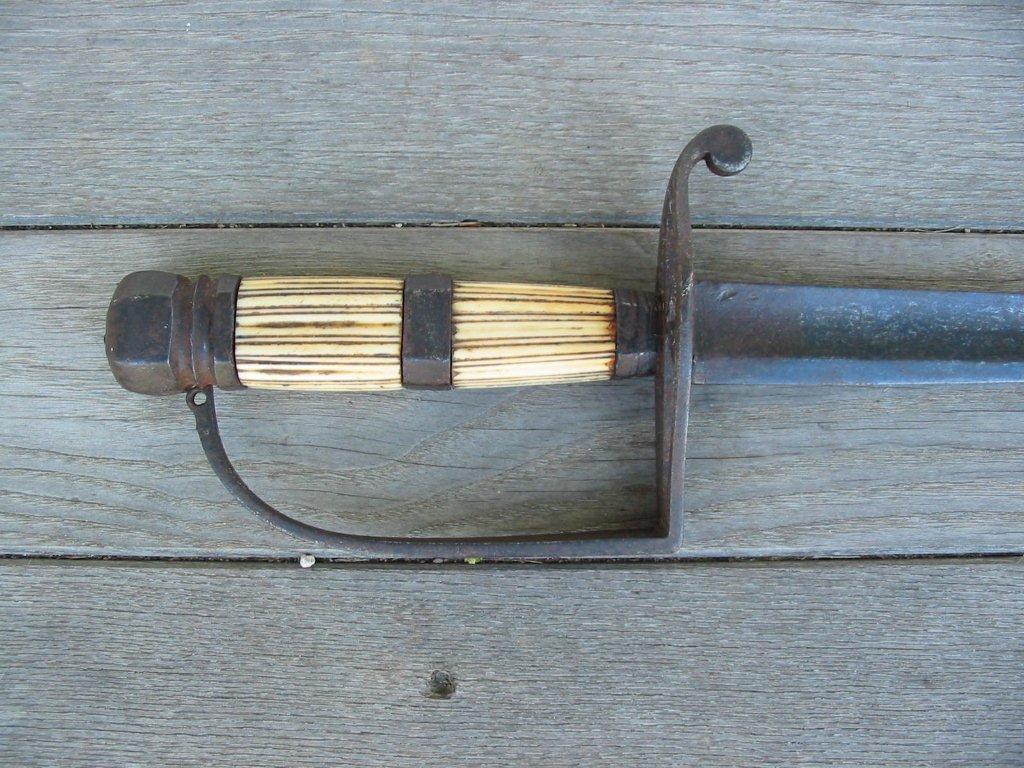 Original late 18th Century Officer's Spadroon This very attractive sword features a bone grip in the cigar band style with iron guard and hardware. The straight, 23 inch blade has likely been cut-down at some point to more of a hanger length. It has a single, wide fuller and rich patina with some visible engraving remaining. The guard has some play. Overall, a nice sword that would look great in a display. $800
Broken Sword Knife. Cut down from an mid-18th century, European hunting sword (which had undoubtedly been damaged during its lifespan), this repurpose made for a rather attractive and serviceable knife. Brass mounts with a spiral carved, ebony grip. The blade has been "cleaned" at some point more recently, but still retains faint traces of it's pitted central fuller and faint traces of engraving. The grip does have a slight, hair-line crack, but is solid and stable. Blade measures 9 inches and knife is 13 3/4 inches overall. I don't see these come up for sale often, and this is certainly one of the most appealing. $600
Original Model "1767" French Hanger #1. Seen in several variations, this standard French hanger was used by both French and American soldiers during the American Revolution and in the years following. The 22 3/4 inch, typical hanger-style blade has a single, back fuller and is of a weight and quality that one would expect to see on an 18th century hanger. Guard is of the later, one-piece type, which may indicate an earlier blade that was retrofitted at some point during it's use. This sword is complete, with it's original, leather scabbard and hardware. Overall fair condition; the blade is dark with some pitting and guard is mounted at a bit of an angle, but is otherwise solid and tight. $650
Original Model "1767" French Hanger #2. Similar to the hanger above, This sword carries a 25 inch, typically thin, hanger-style blade with a single, back fuller. Guard is of the one-piece type. Another rare sword in that it also has it's original, wood-lined, leather scabbard with brass hardware. Condition is good with some deeper pitting and darker areas on the blade. Grip is tight and solid. $650
Early Style Practice Smallswords. Though the hilts are in the popular style of the late 18th century, this pair of fencing or practice swords was most likely made during the 19th century. The epee blades are 34 1/2 inches long and have a blunted "nail" point. The hilts appear to be brass. These smallswords would work well for display, theater props, or as part of a traditional fencing presentation. $275
Early 18th Century Hunting Sword. c. 1700-1740 The hardware on this sword dates it very early. Similar pommels are seen on several examples dating to the turn of the 18th c. This sword does show its age; the antler has shrunk considerably and has a crack along the bottom. The hardware is rather loose and was probably originally fitted with a shell guard, now missing. Still a great example from the period and not a lot of hunting swords from this time have survived. The 22 inch blade has a shallow fuller and still show faint engraved hunt scenes. $350
Send email to Old Dominion Forge
Or, write to:
Old Dominion Forge, Kyle Willyard, Prop.
4186 N State Road 15720
Bloomfield, IN 47424